Environmental Social and Governance
Key SDG goals for BerGenBio

By discovering and developing novel medicines to treat aggressive diseases, including advanced, treatment-resistant cancers, we aim to improve and save lives and thereby creating value for patients, society, and shareholders. Sustainability is therefore the foundation of our activities and is directly linked to our long-term success. 
We are committed to building our business in line with international best practices on Environmental, Social, and Governance (ESG), in particular Agenda 2030 and the Sustainable Development Goals (SDG), as formulated by the United Nations and launched in 2015.
Our vision is to develop innovative drugs for diseases, and a key focus goal for BerGenBio is consequently to innovate (SDG 9) to enable– healthy lives and promote wellbeing for all at all ages (SDG 3). While this is our end goal, we are working systematically at contributing to this goal by our efforts to enable goals 8, 12, and 17. We believe that our positive contribution to Agenda 2030 and the SDGs will be largest if we manage to be a role model for responsible production (SDG 12) – an actor working in partnerships with others (SDG 12 and SDG 17) in order to promote innovation (SDG 9), economic growth and decent work (SDG 8).
In order to have a real and meaningful impact, we started the journey to strengthen our sustainability management in 2020 and since then, these efforts have been continued and broadened. As part of this work, we have identified ESG activities in BerGenBio's value chain that are material for us and our stakeholders. Our key stakeholders include patients and their families, our employees, investors, regulators, suppliers, and other business partners, such as research organizations and academic institutions.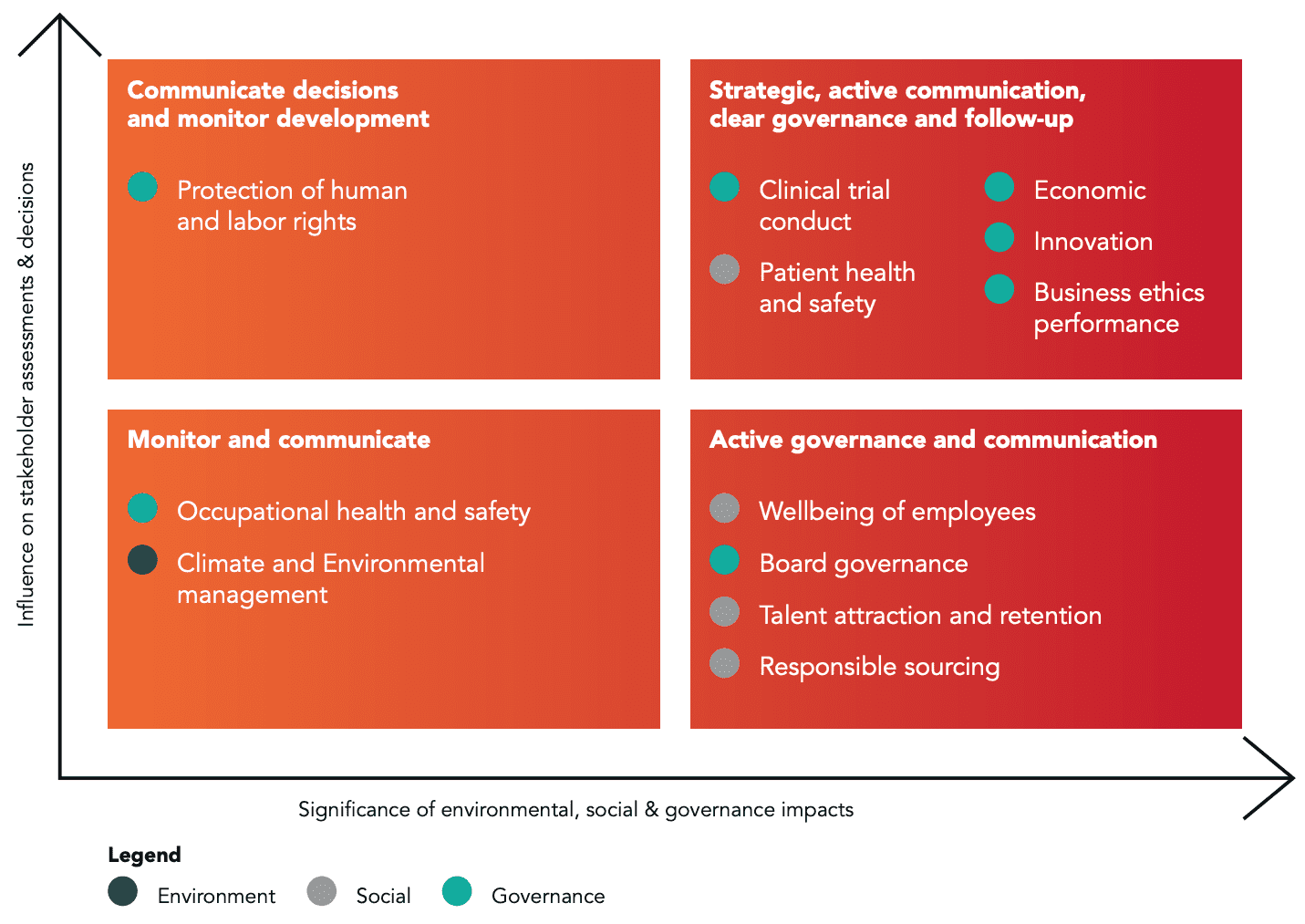 The topics in the upper right-hand corner are those which are of most strategic importance to BerGenBio. These are given detailed descriptions in the ESG section of the Annual Report 2022.
A reference index of the reporting is provided at the end of the Annual Report for ease of location.
BerGenBio is committed to build our business in line with international best practices on ESG. Going forward, we will further integrate the material ESG topics into our strategy and governance including setting strategic ESG targets and incorporating additional metrics. We have established a foundation which will grow with us to ensure our sustainable value creation as our company further develops.
Transparency Act statement
Link to Transparency Act statement document